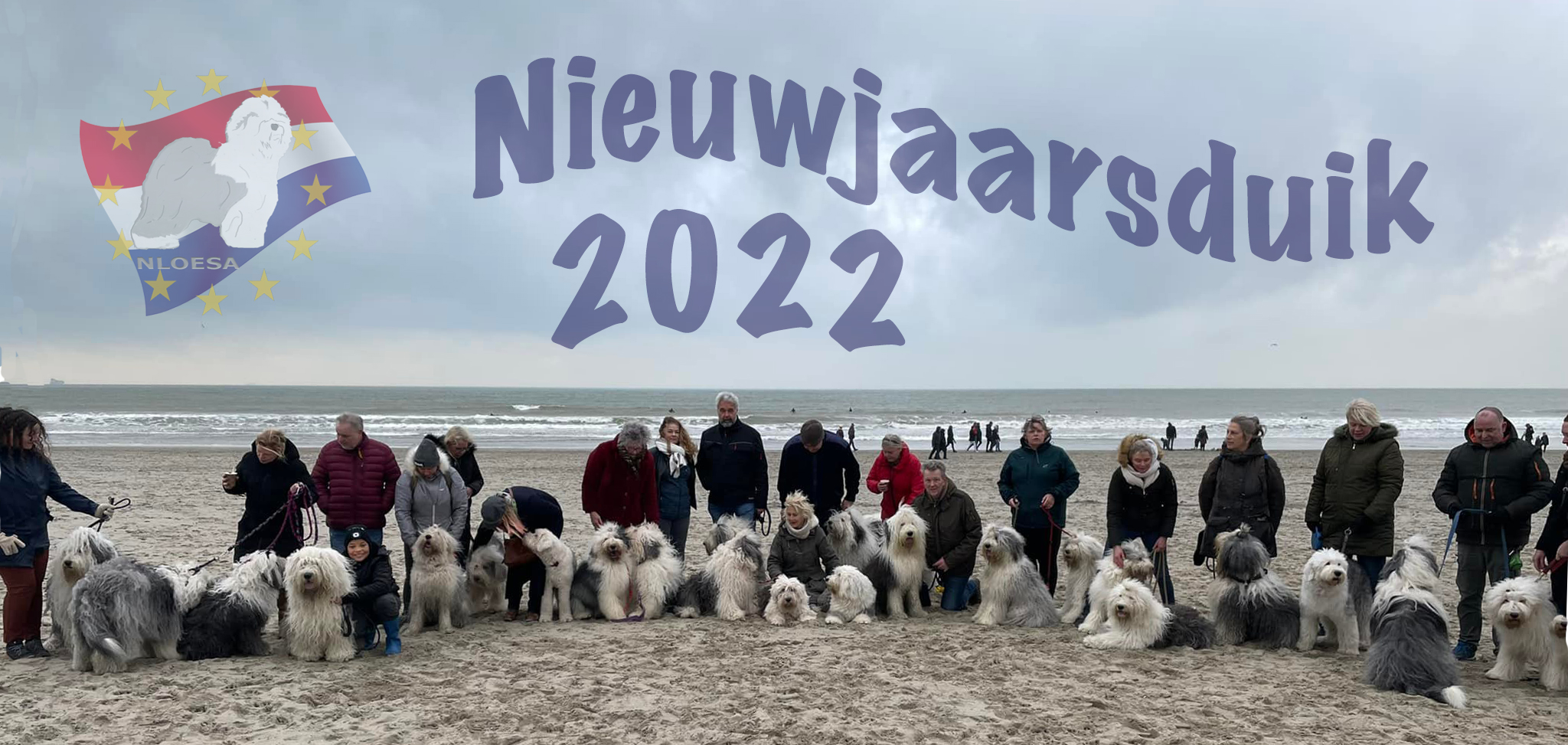 Nieuwjaarsduik 2022
Op 16 januari gingen we volgens oud Hollands gebruik naar de zee...
Geen Unox mutsen, geen sexy bikini's, maar wel 26 schitterende OES met 2x zoveel baasjes die genoten op het strand! Wat was het leuk om elkaar allemaal weer te zien, de honden hadden plezier en de baasjes ook. Ook nu hadden we weer mooi weer. Het was half-bewolkt, de wind hield zich gedeisd en daardoor was de gevoelstemperatuur best aangenaam. 
We startten tegen de wind in (slim toch) maar stuitten daardoor na een kwartiertje al snel op de waterweg. Na overleg -gaan we terug door de duinen, of terug over het strand- was het al snel duidelijk dat we liever over het strand lopen. Dus, terug richting de Zeebries, waar de oudere honden met baasjes alvast naar het terras konden gaan om te rusten. De meerderheid liep door en genoten van de spelende honden en bleven lekker bijkletsen. Er waren zoveel mensen dat het leuk was om zo af en toe te wisselen in looptempo. Regelmatig wachtte de 'frontlinie'  (=snelle lopers) op de medium en slow groepjes, zodat we weer als 1 groep verder konden in een mix van gezellige klets.
Na zo'n 1,5 uur waren we terug bij de Zeebries waar we warm werden ontvangen met chocomel en/of glühwein voor de liefhebbers. Ivm corona mochten we niet binnen in de serre, maar buiten bij het haardvuur kon iedereen zich opwarmen, of lekker uit de wind zitten om nog wat na te praten. Er was een leuk en lekker presentje voor alle honden & baasjes aangeboden door de NLOESA. En we denken dat zowel het lekkers voor baasje als hond het thuis niet heeft gehaald... ;-)
Er komen nog heel veel leuke events in 2022... maar we kijken nu al uit naar de Nieuwjaarsduik '23!